8 Reasons to Consider Mobile IV For Your Bachelor or Bachelorette Party | Smart IV Clinic Miami
Miami, our home city, is known for its fun, sun, and importantly for you, its positioning as the home of unforgettable celebrations. Whether you're planning a wild bachelor or bachelorette party or a weekend with your mates or your girls, you want it to be epic. Realistically though, the non-stop parties and Miami's 90s plus temperatures sometimes leave even us locals feeling completely drained. Fortunately, an in-hotel/AirBnB IV treatment can help! You need to maintain the energy to keep the party going during your perfect pre-wedding celebration in Miami, and we supply maximum convenience in that regard, from advance booking to improved well-being and the ability to keep the party going strong.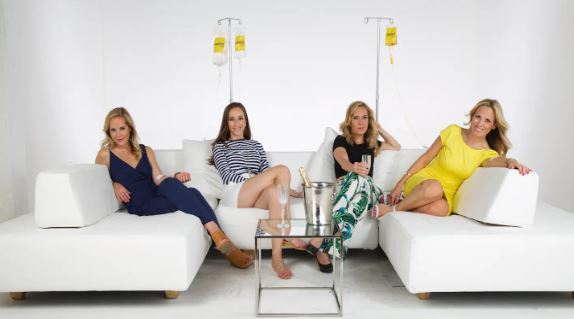 A group IV allows you to keep the celebrations going all weekend
Booking Convenience
One of the most significant advantages of in-hotel/AirBnB IV treatments for bachelor and bachelorette parties in Miami is the convenience of advance booking. After a few clicks or a quick phone call, you can have an experienced medical professional booked to come directly to your AirBnB, hotel or other venue you prefer. No need to interrupt your party with trips to an out of the way office. Instead, sip a mocktail while energizing for an incredible weekend. The often hassle-free booking process ensures you can focus on creating memorable moments for the bride or groom-to-be.
Hydration and Well-Being
Miami's vibrant nightlife and scorching weather can take a toll on your body. Dehydration, fatigue, and hangovers are common party pitfalls. in-hotel/AirBnB IV treatments provide a refreshing solution. Here's how: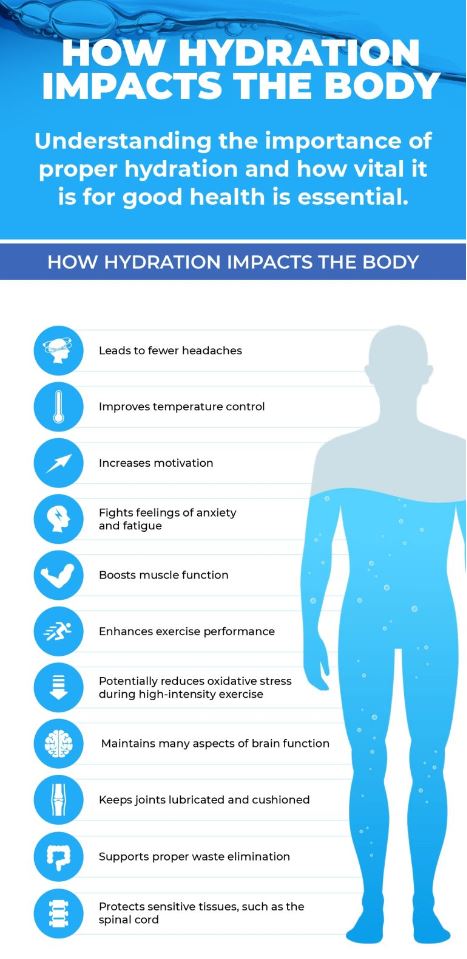 Why Hydration Matters at Smart IV Clinic
1. Preemptive Hydration
Miami's tropical climate can be both beautiful and unforgiving. The combination of sun, heat, and dancing can quickly lead to dehydration, even before your first toast. Booking an IV in advance allows you to start your weekend fully hydrated. You'll be better prepared to tackle the day's activities without feeling sluggish or fatigued.
2. Hangover Prevention
Let's face it – bachelor and bachelorette parties often involve a fair amount of drinking. Booking an IV before hitting the town can help prevent that dreaded morning-after hangover. The vitamins, fluids, and electrolytes delivered through IV therapy can aid your body in processing alcohol more efficiently and mitigate the severity of a hangover.
The Recovery is Smart IV's signature hangover recovery treatment
3. Boosted Energy Levels
A pre-party IV infusion can provide an energy boost that sets the tone for an epic weekend. It replenishes essential vitamins, such as B-complex, which are essential for energy production. With increased vitality, you'll be more inclined to participate in activities and make the most of every moment.
4. Enhanced Immunity
A weakened immune system is the last thing you want on a bachelor or bachelorette weekend, as it can lead to illness and spoil your plans. IV therapy often includes a vitamin C infusion, which can fortify your immune system. Starting your weekend with a strong immune system ensures that you and your friends stay healthy throughout the festivities.
5. Customized Solutions
When you book an IV in advance, you have the opportunity to discuss your specific needs and preferences with healthcare professionals. They can tailor the treatment to your group's requirements, whether that means focusing on hydration, energy, or hangover prevention.
Keep the Party going
6. Expedited Hydration
Even if the weekend turns into a non-stop celebration, booking an IV in advance ensures that you're prepared for the long haul. It can help you hydrate faster from the effects of late nights and intense partying, allowing you to stay in the game and keep the fun going without missing a beat.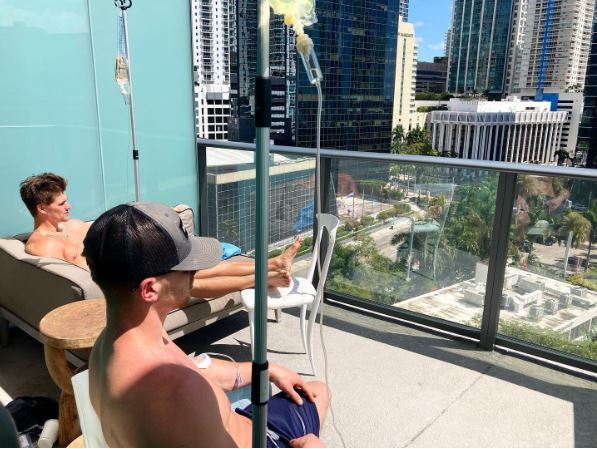 7. Rejuvenate Your Crew
A mobile IV session isn't just for the guest of honor. It's a great way to rejuvenate your entire party crew. Everyone can benefit from a boost in energy and vitality, ensuring that the celebration remains lively and memorable. Smart IV offers attractive group rate discounts for larger groups. Email us for more information
8. Convenience and Peace of Mind
By booking your IV therapy in advance, you eliminate the need for last-minute searches for medical facilities or transportation. Instead, you can focus on enjoying your time with friends, knowing that you've already taken steps to ensure everyone's well-being.
Conclusion
In our crazy city, Miami, where partying is part of the fabric of daily life, in-hotel/AirBnB IV treatments have emerged as the secret weapon for unforgettable bachelor and bachelorette parties. From the convenience of advance booking to the revitalization of well-being and the ability to keep the party alive, IV treatments from the comfort of your hotel/AirBnb offer a range of benefits that can transform your pre-wedding celebration into an epic adventure. So, as you plan your next Miami trip, remember that in-hotel/AirBnB IV treatments can be your ticket to an unforgettable experience, ensuring that the festivities never stop, no matter how intense they become. What happens in Miami stays in Miami.
Experience Unrivaled Wellness – Book Your Smart IV Session Today!‍
Are you traveling to Miami for a bachelor or bachelorette party and are in need of top-tier mobile IV hydration therapy? Look no further than Smart IV Clinic.
Allow us to manage the preparations for the party and support in battling any potential hangovers.
Consider booking our signature beauty treatment, "The Recovery" which will support hangover relief. You will be that much closer to rallying for brunch
Embrace comfort and convenience by booking your deluxe experience via Smart IV Clinic's user-friendly website, or connect with us via email at

[email protected]

or by phone at 800-801-6617. Your body will thank you later!
Smart IV Clinic is revolutionizing IV hydration therapy, with your health and well-being at the heart of everything we do. Reserve your appointment and experience the difference for yourself!
Fill out this form to stay up to date on developments at Smart IV
Follow us on our social media channels in the top right above.