The flu, also known as influenza, is a contagious respiratory illness that can leave patients feeling drained, with symptoms like fever, cough, fatigue, and muscle aches. Getting over the flu can be daunting, but there are multiple stages to the process, and it's crucial to get the right support to expedite the healing process. An innovative solution for easing flu symptoms is IV therapy in the comfort of home. We'll discuss the stages of overcoming the flu and the significance of our concierge IV hydration treatments to help you bounce back faster.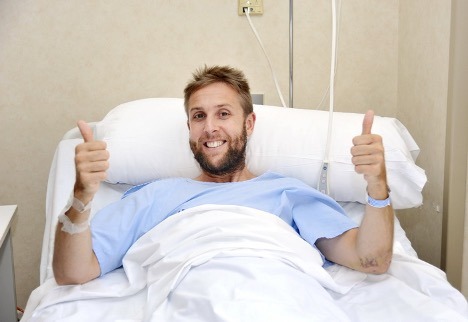 Easing the symptoms of flu: the stages
Overcoming the flu involves several stages each with a duration that depends on your level of health and immunity, and each with its own set of challenges and symptoms. Understanding these stages can help with providing an understanding of what to expect and how to manage getting over the flu effectively.
‍Acute Phase: This is the initial stage, in which you'll experience the full impact of flu symptoms. Fever, body aches, congestion, and coughing are common during this phase
Subacute Phase: After a few days, your fever may subside, but you might still feel fatigued and have a lingering cough. Your body is still fighting the virus, and it's essential to rest and stay hydrated.
Overcoming Phase: This is when your body begins to overcome the flu. Your energy levels start to improve, but you may still feel weak. Proper nutrition and hydration are crucial during this stage.
Post-Overcoming Phase: Even after you feel better, your body may remain susceptible to other infections. It's vital to continue practicing good hygiene and staying well-nourished.
Why IV Hydration Therapy Matters ?
As the symptoms of flu ease, your body needs essential nutrients and hydration to heal more rapidly. This is where our In the home IV Therapy treatments come into play. Delivering treatments via IV allows for direct delivery of nutrients and fluids into the bloodstream, ensuring faster and more effective absorption relative to oral intake.
Smart IV Clinic's Signature Treatments
Smart IV Clinic offers a range of signature treatments that can significantly aid in easing the symptoms of flu:
The Hydration: Staying hydrated is crucial during illness. The Hydration Boost treatment provides the fluids your body needs to rehydrate, ensuring that you remain adequately hydrated
The "Immunity": A weakened immune system can make you more susceptible to complications as you get over the flu. Our "Immunity" treatment is specially designed to bolster your immune system, helping you fight off the virus more effectively
The "Recovery": This treatment is tailored to expedite your healing process, helping you regain your strength and energy more quickly
The "Superstar" is our flagship "All Inclusive" treatment which combines the longevity, detoxification and cognitive enhancement effects of NAD+ in a single treatments at several dosages depending on the need
Smart IV Clinic: Your Partner in Easing the Symptoms of the flu
When you're battling the flu, the last thing you want is to venture out to a clinic. With our treatments here at Smart IV Clinic, you can feel free to book our services and have one of our experienced and licensed professionals arrive at your doorstep in as little as an hour.
Contact Information
If you're looking to boost your ability to get over the flu in the Miami area, you can reach out via the following contact information:
Conclusion
Overcoming the flu can be a challenging journey, but with the right support and treatments, you can expedite the process and regain your health faster. Smart IV Clinic's in the home IV Therapy offers a convenient and effective solution, with a range of signature treatments designed to help you overcome the flu's various stages. Don't hesitate to get in touch and take the first step toward a quicker and more comfortable means of getting over the flu.
‍Fill out this form to stay up to date on developments at Smart IV
Follow us on our social media channels in the top right above.